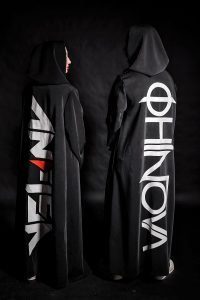 PHINOVA&ANFISA is fast becoming a truly internationally successful EDM duo. The duo consist of the two Phinova (international emcee and hypeman)and Anfisa Known as Dj Anfisa( one of the greatest fashion Dj in Asia )
The duo was formed relatively in the autumn of 2015 in shanghai, China and within a short period of time they have already signed with label "digital treak" Their first official independent release "With you", quickly rushed into #1 on the spinnin records talent pool Electro house Chart.
As well as their incredible dominance on their first single, they reach massive instagram and twitter support on their first single called. "With you" was/is added to several playlists including the filtr playlists, . In only a few weeks, the single reached a huge steams in google play.
Beside google play they use Soundcloud as a playground to release "not official" tracks for free downloads, and the last few days they've gained over thousand of their followers by pushing their tracks to different Soundcloud blogs for repost.
Besides being very talented .they also have huge dj skills and MC background. Before they started producing together as Phinova&anfisa they respectively worked as resident dj's for over 9 years and resident MC at different clubs in China and for phinova emceeing for top100 Dj's as mike Williams , bassjackers and Diego Miranda then Japan,Korea ,china , Ukraine and Russia for dj Anfisa under Porsche and baidu international company with so many festivals experience in Asia .Phinova&anfisa is a creative duo with different mindsets which creates a very unique universe around them both in the studio and while they're performing.
facebook page link :https://m.facebook.com/Phinova/
Soundcloud link: https://soundcloud.com/user-505548058/with-you-ft-shauna-cardwell
Instagram link: https://www.instagram.com/phinovaentertainment/
twitter link. : https://twitter.com/phinovaofficial
official video single : https://youtu.be/qf7NV1gylNo
interview :
https://goo.gl/1jNpj3
https://goo.gl/BGWjtS
http://www.thecrazymind.com/2017/06/phinova.html