Art and creativity are inborn talents that cannot be learned at a school or from a professional. Being a contemporary figurative artist, Matteo Fieno has learned that if you are passionate about creating artwork, there is nothing that should stop you from full filling your dream of becoming an artist. You might have been wondering that he has been an artist since the beginning, and there are no hurdles that he had to face in life. Today I'm going to share his story with you about how he became a successful contemporary figurative artist.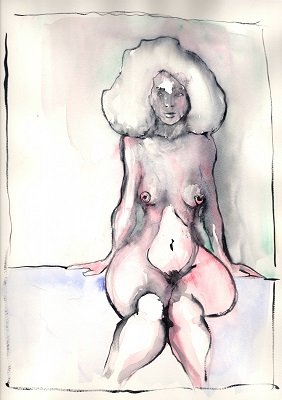 Born and raised in Italy, Matteo Fieno held a deep interest in the arts throughout his upbringing. Having graduated from art school, he later temporarily left art to work for the family's business, he also worked in an advertisement agency for some time that helped him gain some marketing experience. After this, Matteo Fieno decided to take off, as he was in love with the amazing landscapes of Langhe because it is nature's artwork, good food, and wine, he bought an old farmhouse and renovated it into a B&B business.
However, his passion and love for art never ended. This is why he started painting once again in 2018. His return to creative work was initially only a source of personal pleasure, but his community soon began to take notice. Once they did, Matteo allowed himself to share his pieces online, especially on Instagram where he has gained more than 50,000 followers and several artistic collaboration.
He had participated in various prestigious art events in Italy and Europe, most of them were presented and organized by Vittorio Sgarbi, the most influential and famous Italian art experts in the world.
Due to his unique and creative contemporary figurative art, Matteo Fieno has won various awards and prizes.
Matteo employs multiple mediums to create compelling images of the female form. Inspired by Bohemian cultures of bygone eras, he invents characters which create and emphasize their own identities. These characters do so through unique poses, altered proportions, and color combinations which are crafted to represent personality. Each element of these works creates a representational homage to sensuality and beauty.
When beginning a painting, Matteo first envisions a character. Once he has gotten to know his subject, he finds the best way to execute the picture. He begins with a sketch, and then determines how to bring the image into completion. More often than not, the goal of letting the image speak for itself is achieved by keeping it aesthetically simple. Primarily employing charcoal, pastel, watercolor, oil paints, and oil pastels as his mediums, he makes the material lend itself to the whole of the piece. Matteo draws inspiration from artists such as Gauguin, Degas, Matisse, Schiele, Guttuso and Modigliani. This inspiration is exemplified in the postures of the figures, variant colors, and expressive proportions.
These characters show their personalities by either averting their eyes or staring directly at the viewer, all the while posing in the absence of landscape or objects. Often surrounded by blocks of color, the figures are simultaneously decorated and centered. Matteo allows for movement by keeping them loosely drawn. Focusing on the individuality of the figure, he does not sign his works and instead keeps his characters as the center of attention. In short, Matteo would prefer to fall to the background as the artist, and instead let these characters speak with their own voice about the unique life that they possess.
If you want to discover more about his universe you can visit his website www.matteofieno.it or follow his Instagram profile female_art_design