We're in an age where health & wellness have become synonymous with beauty and fitness. With a greater focus on what is good for us,
products that provide the benefits of organic ingredients and attention to longterm maintenance are moving to the forefront.
Ahsak Organic Skincare is taking the lead by catering to health-conscious individuals seeking a simplified, holistic body care
regimen. Organic Soaps with beneficial herbs and essential oils, along with vitamins combined both enrich and invigorate you from head to
toe. Whether it is aluminum and additive-free deodorants, herb and fruit enhanced body washes, or a 4-in-1 skincare system that helps to
keep a year-round healthy glow; Ahsak Organic Skincare fulfills the quest for a fresh, all-natural experience.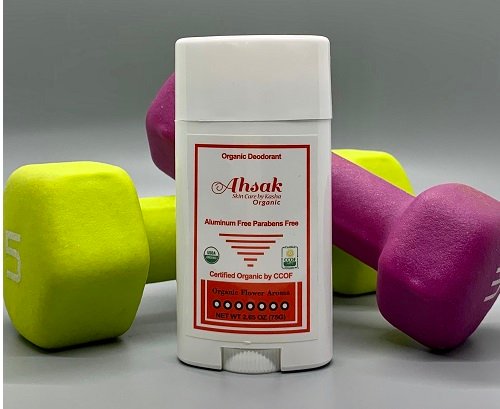 Products, including colorful organic beauty selections, are available with more information at www.Ahsakskincare.com
We are now taking phone orders Monday to Friday 8 am to 5 pm (516)214-0460
Who We Are:
Based in Selden, NY, Ahsak Skin Care was built with a mission of healing and helping the planet and its people. Specializing in plant-based products that are Certified Organic, Certified Vegan, and pose zero negative impact on our environment. Offering a diverse Organic Skin Care Set line, Organic soaps, Organic Body Wash, Organic Deodorant, Organic Lotion, and a colorful array of Organic lipsticks & Glosses.
What made you begin a business?
As a professional vocalist and performer, I found early on the damaging effects of theatrical and stage makeup. The constant irritations caused severe allergic reactions and that can have long term effects on not just the skin but the inner body. My holistic product line—Ahsak Skin Care & Lipstick was born out of a need to have what seemed to be missing for me as a consumer; products that address
organic, wholesome body care.
Once I shared what I created with family and friends, the products were requested enough to launch an entire line of them. I put myself
through school and attended and Completed Beauty School, Long Island Nail & Hair Institute, specializing in the Integumentary System. I'm
now a dedicated Skin Practitioner.
Who is your business for?
My growth as an entrepreneur and inventor came from creating products that worked for me as a consumer with sensitive skin, suffering from chemical irritations from additives. I formed the line for those wanting an organic experience because we value a clean, healthier lifestyle in general.
www.Ahsakskincare.com
Follow us on Facebook & Instagram & twitter @Ahsakskincare