7 offices in 3 countries, 206 employees, promotional campaigns in 32 countries for nearly 3200 business entities. 410 companies currently served, including 60 campaigns on a global scale – that's the total output of Nakatomi LLC, a Polish marketing agency that is successfully conquering the USA, and all of it is managed by a barely 30-year-old small town girl, Ewelina Kołoda – TOP 30 before 30.
Ms. Ewelina, why did a Polish marketing agency enter the American market? How did it happen that you are more involved in the USA than in your own country?
It all started 3 years ago, we were starting from scratch, with no resources to build a company, but with a lot of willpower, that was when I told myself that one day I was going to have offices in the States and it did come to pass. USA is a wonderful market, the most wonderful country in the world, in Poland the awareness of businesspeople will continue to be stuck in the past for a long time when it comes to understanding that marketing is what propels trade forward and it's only a properly run campaign that allows achieving that much. That's exactly what keeps pushing us forward in our development in the USA. Of course, we're also present in Poland, in Warsaw and Gdansk, but 90% of our revenue is marketing campaigns on American markets.
Ms. Ewelina, congratulations on such dynamic development and I can't help but ask, how do you do that?
I was always ambitious and creative. I wanted to act globally, not locally, so coming up with an expansion plan took me a lot of time and required a very conceptual approach to the topic from me. I simply came up with solutions that weren't there, implemented them, gained clients' trust. Advertising campaigns for businesses are a very complex and complicated marketing process. To meet our clients' expectations, we introduced a brand promotion that was unique on a global scale through a 10 level marketing strategy.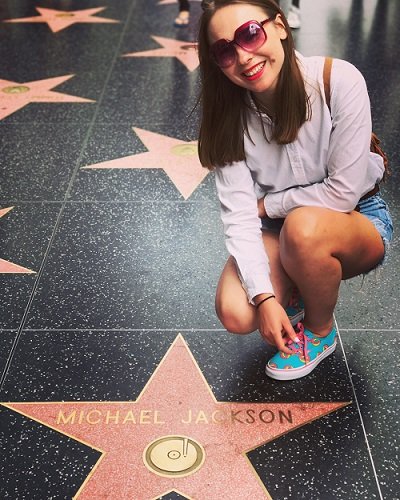 What does its uniqueness consist of?
The details are our know-how and they are confidential, all I can say is, we spread the budget on 10 levels from promotion on social media to remarketing. The target is tailored specifically to the client because it is both easier and cheaper to reach a consumer that is very targeted instead of a general customer. The key here is to identify the market our client wants to operate on in great detail, or even find new markets for them. On top of that, our work is very extensive, from social media to video production, corporate blogs, outdoor, hosting, to AdWords campaigns and SEO. We're the only agency in Europe to have our own SEO supply network in 14 countries.
The recent months were a very busy time for you in Hawaii, where you're opening another Nakatomi outlet. It is amazing that you can afford two months outside of the headquarters with your company developing so dynamically.
That's the result of the management model we've implemented. I was inspired by Frederic Laloux's book "Work Differently". That was it, that's exactly how I pictured my company, based on a self-organizing work system, without having to supervise and create hierarchical structures. Around the world, a model of this type is called a turquoise company. One could say that I'm the head of the company, as I meet the key clients around the world, negotiate the conditions of cooperation, sign the agreements, supervise the opening of new offices, recruit employees, but our system doesn't have a so-called leader, there are no directors, no managers. All employees are treated equally, they even get paid the same, high salaries (different for every branch depending on the country and city), they are equally motivated. And most of all, they are independent.
How do you find such people?
Most of all, I search for people who are willing and able to learn their duties, people who are not afraid of new challenges. People who smile, with a positive attitude towards life. I say no to grumps, regardless of their qualifications. I don't care about education, about the experience, etc. Personally, I have a degree in civil engineering. You have to believe me that during the 5 months of paid internship, everyone here will learn everything they need to create campaigns and to serve customers. After the internship, every employee stays in the company and works on their own. We don't fire anyone unless someone wants to leave on their own accord. The only requirement we have when recruiting is speaking one foreign language fluently. It is a must, as 95% of our campaigns are for foreign markets.
Your plans for the future?
On June 1st, our official office in Honolulu just opened, it is our 7th branch already, it was a necessity, but also a desire for development because we have found business partners in Hawaii, on October 1st we're opening another branch in Warsaw. We would really love to enter the Norwegian and Australian markets, open branches in Oslo and Sydney. These are the plans for the next year. Further down the road, we would like to expand our operations to the African markets. It will certainly be one of the most difficult challenges for the years to come. But after all, fortune favors the brave, doesn't it?